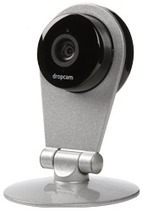 The Dropcam video camera is a revolutionary low-cost Wi-Fi-enabled video camera that offers free live streaming as well as cloud-based automated video recording.
Though there have been webcams and other wifi enabled video cameras since a few years, the Dropcam is the first one to provide an integrated set of features and services that make it extremely easy to use and setup and immediately useful for many different possible uses.
While chiefly used for private home monitoring, Dropcam cameras can be used in public mode for live video streaming in HD quality (min 400Kbps in upstream required).
The newest model, the Dropcam HD, can live stream in 720p HD video, from anywhere there is a WiFi connection.
Key features:
No software to install
Bank-Level Security 256-bit AES
Private or public transmission
Night Vision
Talk Back (Respond to what you see and hear on camera with two-way audio)
SMS Notifications
Dropcam DVR (View either live or recorded video from any Dropcam)
Keeps recording even when connection is down
H264 video encoding
Automatic cloud-based recording
Remote digital pan and zoom
Motion detection
Dropcam app for iPhone, iPad and Android
Features: https://www.dropcam.com/features
FAQ: https://www.dropcam.com/support
See some public Dropcams at work: https://www.dropcam.com/demo
Dropcam HD price: $149
(Currently, Dropcam HD only ships within the US.)
Pricing plans for additional cloud-based recording services: https://www.dropcam.com/plans
Find out more: https://www.dropcam.com/
(Curated by Robin Good)