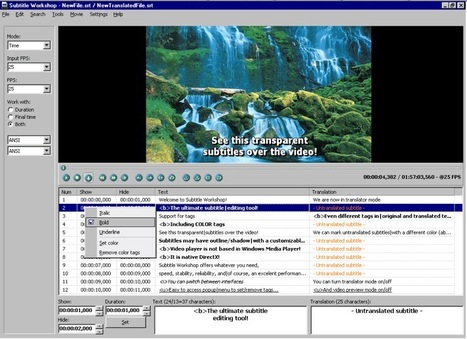 From the official site: "Subtitle Workshop... supports all the subtitle formats you need and has all the features you would want from a subtitle editing program.
Subtitle Workshop makes subtitle creating/editing/converting tasks almost a pleasure, the amicable and intuitive interface mixes easy to access menus & must have features with advanced functions and a remarkable speed and stability, drastically reducing subtitle editing time.
It includes spell check function and an advanced video preview feature which will ease the task even more."
Key features include:
- Can handle both time and frame based subtitles.
- Can load files in plain text format so that you can set the timings.
- Supports reading and writing style tags (bold, italic, underline) and color tags in format which support it.
- Supports Output Settings in DVDSubtitle, SAMI, Sonic Scenarist, SubStation Alpha, SubViewer 1 & 2 and TMPlayer formats.
- Supports saving a subtitle in your custom format.
- Supports multi-language (currently over 35 languages are available)
Download: http://www.urusoft.net/download.php?lang=1&id=sw
More info: http://www.urusoft.net/products.php?cat=sw&lang=1